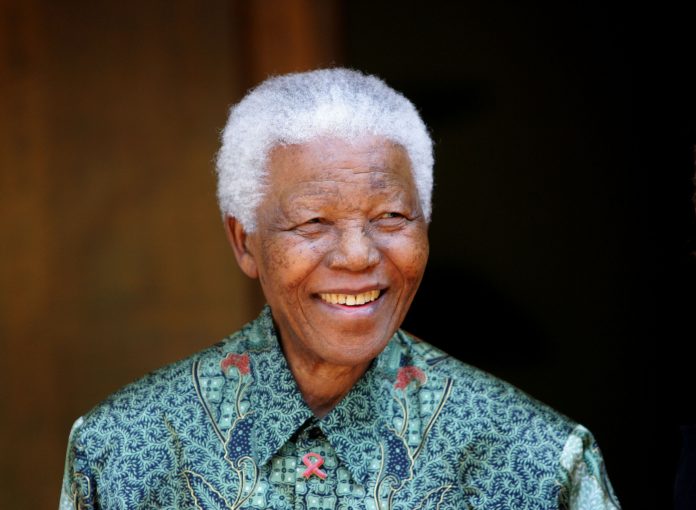 By Elizabeth Singleton
Under the newly-formed government of President Nelson Mandela, South Africa is shaping a new landscape of democracy for its future. With new voices now resounding in Pretoria's Parliament, many old issues and new concerns will finally be addressed. After twenty-seven painful years of imprisonment, Nelson Mandela was, miraculously, unconditionally released and hailed throughout the world as a powerful freedom fighter.
Unbroken by hard labor, mental and physical torture, life threatening illness, and constant separation from his family, Mandela staged an uncompromising campaign in a historic multi-racial election based on one person, one vote. With an overwhelming victory, it marked the direct end of colonization in Africa, Nelson Mandela was inaugurated on May 10, 1994, before 150,000 spectators, as the first black president of the Republic of South Africa. A recipient of the Nobel Peace Prize, Mandela saw his commitment to the liberation of his people fulfilled. His remarkable stamina allowed him to withstand 27 years of imprisonment to see the dismantling of a deeply entrenched racist regime.
South Africa's new President is a global celebrity with a youthful appearance despite his 77 years. Born on July 18, 1918, in a small village near Umatatala and baptized in a Methodist church as Rolihlahla Nelson Dalibhunga Mandela, the son of a chief of the Tembu tribe. His father passed away when he was nine, and his education was entrusted to a cousin, who was acting as the high ranking chief. In 1939, after attending a British missionary school, Mandela enrolled in Fort Hare University where he met some of his future comrades in the African National Congress (ANC) such as Oliver Tambo and became interested in politics. In 1940, after participating in a student strike, he and Tambo were suspended, and Mandela was forced to return to his native village. Tribal elders tried to push him into a pre-arranged marriage, but he refused his bride-to-be and relinquished his inheritance as a future tribal chief.
Seeking greater opportunities, Mandela headed for Soweto, Johannesburg's growing black metropolis. There, he impressed the head of the local ANC, Walter Sisulu, with his intellect and articulate manner. Sisulu encouraged him to join the ANC, complete his undergraduate degree at Fort Hare, and pursue the study of law. Upon receiving his law degree from Witwatersrand University, Mandela and his former classmate Oliver Tambo opened the first black law firm in all of South Africa.
In 1944, Mandela married Evelyn Ntoko, a nurse by profession. However, he did not devote much time to the marriage, which produced two sons and a daughter. He felt duty called him to act on the emancipation of his people, and he plunged vigorously into the movement.
Unhappy with the lack of militancy within the ANC, Mandela, Sisulu, and Tambo linked arms with the more radical ANC Youth league. After five years of philosophical debate and political maneuvering, the young rebels succeeded in purging the older, more conservative ANC leadership and taking over the organization.
In 1956, Mandela divorced Evelyn, and within two years met and married Nomzamo Winnie Madikizela, a medical social worker, 16 years his junior. This union produced two daughters, but they enjoyed only five years of marital bliss. On March 21, 1960, South African police at Sharpeville opened fire on peaceful demonstrators protesting a discriminatory pass law, killing 69 and wounding 180. This brutal massacre convinced Mandela that nonviolent demonstrations were futile as a means of freeing his people.
The Sharpeville massacre prompted Mandela and a group of ANC'ers to go ''underground" and set up an independent organization called "Umkhonto we 'Sizwe" ("spear of the nation"). This group was aimed at ending apartheid through guerilla warfare and sabotage. Mandela slipped out of the country to meet with Ethiopia Emperor Haile Selassie and Colonel Boumedienne, Commander-in-Chief of the Algerian Liberation Army. After undertaking military training in Ethiopia and Algeria, he returned to South Africa to take personal command of the new guerilla army. His underground activities soon made him a favorite topic of the South African press and a hero among his people.
In August of 1962, Mandela was arrested after informers tipped off the police. Mandela and seven of his ANC comrades, including Sisulu, were found guilty of sabotage during what became known as the "Rivonia Trial." They were sentenced to life imprisonment and taken to Robben Island, outside Cape Town. During the 27 years of incarceration, between shifts of back-breaking labor in a stone quarry, he and his ANC comrades used every available moment to plot and scheme toward realizing their dream of a free South Africa. The plotters knew time was on their side. Undeterred by personal tragedies such as the deaths of his mother and his oldest son, and the government's refusal to let him attend their funerals, Mandela worked extremely hard to keep his body fit and maintain a positive mental attitude.
Meanwhile, international pressures mounted. Sanctions by the United States and other nations began to strangle South Africa's economy. In 1984 the South African government arrested the entire Black Labor Leadership, an act that inflamed the world and caused the United Nations Security Council to introduce a resolution of condemnation. At President Reagan's direction, the United States abstained. African-Americans responded with outrage. "I felt that we had to do something" recalls Randal Robinson, the Executive Director of TransAfrica. Founded in 1977 as a foreign policy advocacy organization, it forced attention to issues concerning Africa and the Caribbean.
In the summer of 1984, TransAfrica began mobilizing opposition to U.S. support of apartheid. With colleagues Walter Fauntroy, Richard Hatcher and Mary Frances Berry, Robinson requested a meeting with the South African ambassador in Washington, then refused to leave the embassy. Meanwhile, the TransAfrica office called a press briefing with Eleanor Holmes Norton in front of the embassy. Inside, Robinson demanded two things: that Nelson Mandela is freed immediately, and that the South African government take immediate steps to dismantle apartheid. "We will not leave until we have commitments on these two measures," Robinson stated. The South Africans had them arrested, which was the group's objective. This began the "Free South Africa Movement." "The rest is history," said Robinson.
During the movement, some 5,000 Americans were arrested for protesting in front of South African embassies. Public reaction to the atrocities of apartheid moved Congress to action. In 1972, Representative Ronald V. Dellums had introduced the first Anti-Apartheid legislation. In 1986, it passed, "sending a clear message to South Africa that American investment would be divested," Dellums remarked. Support for the bill was so strong that it withstood a veto by President Reagan, the first time in the 20th century that a President's foreign policy veto was overridden.
The Comprehensive Anti-Apartheid Act of 1986 imposed economic sanctions against
South Africa and triggered sanctions from Europe and Japan, resulting in a loss of confidence by the global banking community in the economy of South Africa. Simultaneously, the divestment movement led by Black Americans forced hundreds of universities and businesses to withdraw investment dollars from South Africa. From 1985 to 1991, the number of American corporations with South African operations fell from 267 to 104. It is estimated that South Africa lost $10 to $50 billion in investment capital. "That was very sobering to South African Whites," said Robinson.
Faced with financial ruin and growing unrest within the black community, supporters of apartheid were reaching the end of their rope. By 1985, with mounting pressure from the ANC guerrillas and condemnation from around the world, the government started secret negotiations with Mandela for his release. To save face, President P.W. Botha told the prisoner that he could be a free man if he would openly renounce violence. Mandela refused. The offer was repeated toward the end of 1989 by Botha's successor F.W. de Klerk, and again, Mandela refused. Finally, an exhausted de Klerk agreed to an "unconditional, no-strings-attached release." Mandela accepted.
On February 7, 1990, Nelson Mandela was released from Robben Island, bloodied but unbowed, bruised but not broken. Shortly after his release, Mandela set foot on the shore of America. He received a warm and enthusiastic embrace by Americans of all races, religions, and political persuasions. He made a second trip in 1993 while raising funds for the South African elections. From Harlem to Hollywood, people paved the streets and lined the boulevards trying to catch a glimpse. Americans hungry for heroes saw Mandela's visit as a beacon of hope and a concrete opportunity to demand freedom for all the African diaspora.
Mandela in return paid tribute to African-Americans such as Paul Robeson, George Washington Carver, and Joe Louis. In Atlanta, he praised the men and women who gave their lives in the U.S. civil rights movement and laid a wreath of chrysanthemums on the tomb of Martin Luther King Jr. In Detroit, Mandela was greeted by 70,000 and revealed that Motown's music had inspired him during his 27 years in prison. He expressed a particular fondness for the music of the late Marvin Gaye.
At the beginning of Mandela's six-city, nine-day tour of the U.S. in 1993, President Bill Clinton honored Mandela and South Africa's then-President Frederick Willem de Klerk, both Nobel Peace Prize winners, with this country's Liberty Medal. At the NAACP's annual meeting in Indianapolis, Mandela received the W.E.B. DuBois Medal that had been awarded to him in 1986, four years before his release from prison. That trip included a two-day stop in Chicago where he collected over $1 million in the name of democracy. Returning to South Africa with American money, and renewed determination, Mandela embarked on the first ever democratic election process, a 15-day journey to victory while the entire world watched.
The South African saga began 342 years ago, in 1652, when Jan van Riebeeck and employees of the Dutch East India Company established a refreshment station for trading ships on the Cape of Good Hope. Over the next 300 years, great African warrior nations such as the Zulus, Xhosas, and Sotho fought relentlessly, often defeating the Dutch Boers (settlers who called themselves Afrikaners), and the English. Ultimately, the white settlers established an oppressive government based on slavery and forced labor of Africans and Asians.
Three and a half centuries after the first whites settled in South Africa, democratic elections manifested the country's metamorphosis. Black South Africans responded eagerly to the opportunity to choose their leaders for the first time. They stood for seven and eight hours, in long lines that snaked across the countryside, to cast their votes. Undaunted by threats of violence, thousands poured out, some sleeping overnight to secure their places. The number of participants stunned the Independent Electoral Commission, who had to order 9.3 million printed ballots. Within 15 days, South Africa was reborn under a new constitution and a new flag.
Mandela and his staff worked hard to create a new coalition of power and to build bridges between the White and Zulu communities. On May 6, 1994, Mandela named his 17-member cabinet and leadership team including first executive deputy president, Thabo Mbeki, and second executive deputy president, F.W. de Klerk. The Independent Electoral Commission announced the final vote tally: 12,237,655 (62.6 percent) for the ANC; 3,983,690 (20.3 percent) for DeKlerk's National Party and 10.5 percent for Buthelezi's Inkatha Party. On May 7, 1994, the first step in the transfer of power to Africans occurred with a meeting of eight of the nine provincial legislatures. There were black majorities in seven of the provincial legislatures, and the ANC controlled six of the nine.
With the newly appointed cabinet came a progressive new agenda which is the paradigm and foundation for the rebuilding process. Mandela has been quite candid about his cabinet's roles and objectives for the country.
Dr. Nkosazana Zuma, 45, the New Minister of Health, has made the implementation of President Mandela's plan of free medical assistance for pregnant mothers and children her top priority. A former AIDS researcher, she is a strong advocate of AIDS awareness programs and sex education.
Jay Naidoo, 39, the former general secretary of the 500,000 member Congress of South African Trade Unions, will be responsible for employing 2.5 million people to build new roads and construct 2 million new homes.
Joe Modise, 64, Minister of Defense, and former commander of Umkhonto we Sizwe, the ANC's guerilla force, now heads South Africa's military force of 65,000.
From around the globe came the largest gathering of heads of state to ever attend an inaugural, and the largest gathering of Black heads of state ever. On May 8, 1994, a 44-member delegation arrived from the United States, headed by Vice-President Albert Gore and his wife, Tipper Gore, First lady Hillary Rodham Clinton, and members of the Congressional Black Caucus. It was the largest U.S. delegation to ever attend an inaugural and included cultural and political luminaries such as Maya Angelou, Quincy Jones, Collin Powell, Jesse Jackson, Linda Johnson Rice (President and COO of Johnson Publishing Company), Mike Espy, Ron Brown, and Representative Ron Dellums.
Amid a cheering crowd of thousands, wrapped in the ANC colors of black, gold, and green, waving the new flag of South Africa representing a "Rainbow Nation" of blacks, whites, and browns, Nelson Mandela was inaugurated as the President of the Republic of South Africa on May 10, 1994.
South Africa's new leadership now faces the perilous task of nation building. Political realities dictate that former President F.W. de Klerk, former prisoner Nelson Mandela, and Mandela's arch-rival Chief Mangosuthu Buthelezi must now sit together at the table of brotherhood. President Mandela's 27 member cabinet, a testament to his commitment to racial and ethnic inclusiveness, will be responsible for trying to repair the damage inflicted by 340 years of brutal minority rule.
More than anyone involved in the struggle, Mandela knows that "there is no easy road to freedom." But he has triumphantly assumed the task of creating what has never existed before, a nation where blacks, white, and browns, share equal economic and cultural power. "The sun," said Mandela, "shall never set on so glorious an achievement."
With the dawn of freedom for South Africa, the sun sets on one of the worst forms of human oppression in recent memory. From the shores of America to shores of South Africa, the struggle for liberation has claimed millions of lives. In the 1950's, African-Americans cried out, "We Shall Overcome." In the 1960's, South African's replied, "Amandla Ngawethu" (Power is ours). From the prisons across America to the prisons in Capetown, "We Shall Overcome." From the midwestern farmlands to the South African townships, "We Shall Overcome." From Wall Street to Johannesburg, "We Shall Overcome." From Congress to Parliament, "WE SHALL OVERCOME! Now, in South Africa, the highest office in the land is held by a native black South African. We too, the Africans living in American, who lit the torch of freedom in our country, hope to one day experience the joy of seeing a black African- American hold our highest office. The liberation of the African diaspora continues. As Randal Robinson so prophetically stated, "the blood that unites us is thicker than the waters that divide us." We are not independent islands but are connected through time and destiny. The struggles of African-Americans are the struggles of South Africans. When they suffer, we feel their pain. We all strive for the same promise of brotherhood and the same ideals of freedom.
Like W.E.B. DuBois, Marcus Garvey, and Martin Luther King, Nelson Mandela has committed his entire life to the liberation of all people. He eloquently declared his allegiance to the emancipation of South Africans during the Rivonia Trial in 1969, when he said, "I have dedicated my life to this struggle of the African people. I have fought against white domination, and I have fought against black domination. I have cherished the ideal of a democratic and free society in which all persons live together in harmony and equal opportunity. It is an ideal which I hope to live for and to achieve. But, if need be, it is an ideal for which I am prepared to die." Let us all live in the legacy that Nelson Mandela has laid for us, until we can all proclaim with Martin Luther King, "Free at last, Free at last, Thank God Almighty, We're Free at Last."