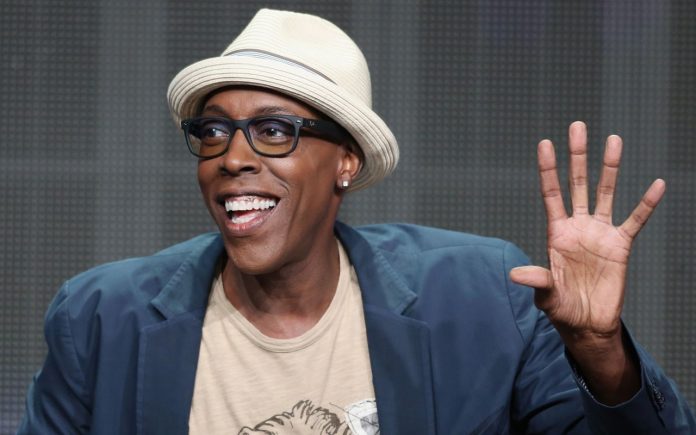 A Biography
At age 12, growing up in Cleveland, Ohio, Arsenio Hall told his mother he wanted "to do what Johnny Carson does."
At age 30, Hall is doing just that, as the host and executive producer of "The Arsenio Hall Show," the hour-long, late-night talk show from Paramount Domestic Television that premiered January 3, 1989.
In just a few short years, this dynamic personality has rocketed to stardom, landing his own late-night talk show, an exclusive motion picture agreement with Paramount Pictures and acclaim as an actor, comedian and host.
Hall showed an early talent for performing and show business when he took up magic at the age of seven. "Most kids had a paper route and mowed lawns to make a little money, but I was allergic to grass," he says, "so I did magic. My father (a Baptist preacher) would do weddings and I would do magic at the reception."
In high school, Hall explored other areas of his talent. "As I got older, my interests changed. I was a drummer in the marching band and orchestra, and had my own music group. Then in college, I got involved in theatre arts and was a deejay for the campus radio station," he says.
After graduating from Kent State University, Hall embarked on a career in advertising, but the spotlight still beckoned. Acting on a dare, he started doing stand-up comedy routines in 1979. That was all it took — Hall quit his job and moved to Chicago, where he was discovered in a nightclub by singer Nancy Wilson, who funded his move to Los Angeles.
As a stand-up comedian, Hall has opened for dozens of top name performers including Aretha Franklin, Tom Jones, Wayne Newton, Patti LaBelle, Anita Baker and Tina Turner.
In 1983, he made the transition from clubs to television as cohost of the ABC summer series "The 1/2 Hour Comedy Hour." The following year he was a regular on "Thicke of the Night," and went on to co-host Paramount's long-running music/variety series, "Solid Gold."
Hall's rise to stardom accelerated when he was signed as an interim guest host on Fox Broadcasting's "The Late Show." During his tenure, the show enjoyed some of its highest ratings ever, and Hall went on to host 13 uproarious weeks of the late-night talk show. Following his "Late Show" stint, he signed an exclusive two year, multi-film agreement with Paramount Pictures, which led to his acclaimed performance in the box office blockbuster Coming to America. Most recently, he was the sole host of the 1988 "MTV Awards."
Based on his success, Hall has become one of the hottest celebrities in the country, resulting In rapid station sales and extensive media attention for "The Arsenio Hall Show."
"The Arsenio Hall Show" is a production of Arsenio Hall Communications, Ltd. in association with Paramount Domestic Television.