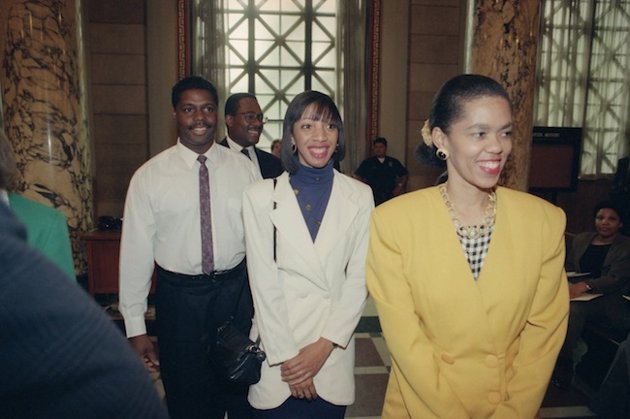 Titus Murphy saved Reginald Denny
from the worst riot in this century
On June 16, 1992 Titus Murphy of Los Angeles, California granted an interview to Black History magazine. He was one of four people who helped save a White truck driver (Reginald Denny), from the riots in Los Angeles on April 29, 1992, when the truck driver was dragged from his truck and beaten.
Quest: A little background…
Titus Murphy:
I'm originally from Florida, a city called Panama City, a small town on the panhandles. Basically, I'm one of eight kids in a Southern family raised by my mother. My father was a disabled vet. Most of my schooling is in the engineering field. I'm 35.
Titus Murphy saves Reginald Denny
from the worst riot in this century
Quest:
About the day in question…
Titus Murphy:
Yes, it was that day of the riots. Everyone in town was waiting on the verdict of the Rodney King case. I have a small electronic business and I was out running my errands. I was waiting to see the verdict so I was rushing back to the shop, but I couldn't get there in time. All I heard was the aftermath of the verdict, so I decided to go over to Terry Barnet's house. She's one of the women who helped me in the rescue. When I got to Terry's house, the aftermath of the verdict was being aired on the television. As we were watching the aftermath, listening to the responses to the verdict, one of the local stations announced that there was something going on at an intersection near Terry's house.
Quest:
Where is that, what intersection was that?
Titus Murphy:
The intersection was at Florence and Noley [streets]. This was April 29th. We decided that it was about ten to fifteen minutes away from the house, and we said "goodness, that's awfully close." So as we were watching this, they showed looters looting a liquor store in that section. From the interviews that we'd seen on television, from the viewpoint of the helicopter cameramen, it looked as though there were at least a thousand people in the area and they were doing a lot of looting. And at this time, many looters started to attack some of the motorists coming through the intersection. They were pulling them out of the cars and beating them. I was afraid-I thought, "This is crazy, it can't be can't be going on," and "Oh boy, it's finally happened, the cup has run over. This thing is getting ready to explode."
I'm not really from California, but I have been told by numerous people that the riot was going to happen again just like the one in '65, this time worse; I wasn't here in '65, I don't know anything about that, but anyway, that thought went through my mind. And as I was thinking this, the rioters pulled an individual out of a white truck and they beat him pretty badly. A truck stopped in the middle of an intersection. A guy (who I later found out was Reginald Denny) pulled up behind this truck and slowed down and that's when they grabbed him. They beat him pretty badly and I watched it happen on television. Terry and I both watched it and we thought God, we need somebody; somebody needs to get this guy out of there because they're beating this guy really badly. They were beating him with crowbars, bricks, and any objects that they could get. We decided we were going to go down and check this out.
As we were leaving, I told her I would drive the car because I can drive a little better than she can. I decided we would not go to ground zero, maybe a block from that point, because ground zero just seemed like it was just too much. We noticed that there were about six or seven helicopters in the air, all different colors. We knew they had to be from different radio stations and television stations. I'd say within maybe a mile from this incident, people were coming out of their homes and looking in the area of the helicopters. I guess they were listening to the radio stations, television stations and whatever, so they knew what was going on. When we got a block west of this intersection, I happened to notice that Mr. Denny's truck was still there. After watching this guy get beaten on television, then taking about fifteen minutes to debate if I wanted to go, and then having to drive for fifteen minutes, for a total of approximately twenty to thirty minutes, this guy was still at this intersection. I could not believe it, so I pulled up next to the truck. There was a young lady aboard the truck who I later found out was named Lee Juan. I pulled up next to her and asked her if she was OK. She said she was "alive."
At that point, I pulled my vehicle in front of the truck to try to make way for it. The truck was in idle-it wasn't really driving, it was just idling. There were individuals in the street, individuals in the corner and cars running diagonally, crossways and all directions. It was total chaos. I think there were also at least a thousand people at this intersection. I told Terry that I was going to go back and check on his [Richard Denny's] condition. I went back to the truck on the passenger's side and leaned over Ms. Yuan. I noticed that this gentleman was beaten badly and his face was totally swollen. There was blood running out of his eyes, which had swollen to the point that they were even with the tip of his nose. His body was bruised beyond recognition. He was so swollen, he looked like he was a huge guy. I later found out that he's a small gentleman, but anyway, I got off of the running board to go back and tell Terry that I was going to drive back. When I went back to the car, I noticed that another gentleman ran out of the crowd. I didn't know who this gentleman was. Terry and I thought that this guy was going to finish him off.
But when the gentleman [Bobby Green] jumped in the driver's seat, I realized he was going to drive. Lee Yuan climbed inside to comfort Mr. Denny. Bobby Green was in the driver's seat. I was on the outside and Terry, I guess, read the situation and continued to make way through the traffic by running interference for the truck. The truck was fully loaded with gravel, so we couldn't get it going fast enough. When we did get it going, we ran every red light and broke all the laws so we could get [Reginald Denny] to the hospital. When we pulled the truck into the hospital, I jumped out first because I noticed that there were paramedics in the hospital parking lot with another patient. I ran over and told the paramedics we had a beating victim who was in bad shape and he said to hold on a moment because he was working. I said, "No, this gentleman is in really bad shape." He came over to the truck and sent one of his assistants to get a gurney. Mr. Denny went into convulsions at that instant, so he told another assistant that this was an emergency, to get anything now. They brought a board and got him out and took him inside. The paramedics told us if we had been thirty seconds later, he would have died en route because he already had been choking on his own blood.
Quest:
When you got to the intersection, were the men who beat Mr. Denny there or had they already left?
Titus Murphy:
When I got there, Mr. Denny had dragged himself back into the truck and somehow idled that truck for thirty minutes to one block west of the intersection where I arrived. Ms. Lee Yuan was guiding him because she couldn't drive the truck, but he could not drive or see. All he could do was idle the truck. But there were kids in the area.
Quest:
You saw this happening on T.V., but when you got there, no one was there to help yet?
Titus Murphy:
When we got there, the cops were not in the area. As a matter of fact, the cops were leaving. They didn't want any part of that area. When I got there, Lee Yuan was the only individual who was there. She was on the running board on the outside of the truck and there was a lot of chaos. I just got busy. As soon as I saw the truck, I knew what I had to do.
Quest:
What was going through your mind? Did you feel you were in danger?
Titus Murphy:
No, I never thought that I was in danger. I just put that aside. I just said to myself, "This man's life is more important than mine right now. He is in a lot worse shape than I am." So I made up my mind that this man needed to be taken to the hospital.
Quest:
What has happened since then? Has he recovered fully yet? Have they found the men who attacked him?
Titus Murphy:
I did an interview at the City Hall of Los Angeles. I was told that Mr. Darryl Gates, the Chief of Police here in Los Angeles, had arrested four individuals. I haven't really followed up on the case that much because I've been pretty tied up with the media.
Quest:
Titus, What are your feelings about the riots and Darryl Gates? I know many people find him to be a very bad leader who has really not done his job to protect and serve all the people. What is your impression of him and the systemic problems that caused the riots?
Titus Murphy:
As far as the riot, I believe it activated at the time it did because the people in the city (Asians, Hispanics and Blacks) have been depressed for years and years. Also, there are some things that have happened during the last few years in Los Angeles. For example, the case of Latasha Harlins. A Korean woman shot her in the back at point blank. They showed this on television. And normally in a case where a person gets shot in the back like that, the gunman automatically has to do jail time, but they let this woman walk from this. And there are a number of cases where police officers shot individuals several times and reloaded their guns. These officers were also able to walk away.
There's been a lot of pressure built up in the Los Angeles area towards the police department. People decided that they were going to do something about it. This is my impression. I was just as angry as the looters but I chose not to go that route. I just chose to think positive even during bad times.
Quest:
What has happened since then? You've been on a couple of talk shows, I know. I met you at the Rainbow Conference. It seems that you've become a celebrity and I want to know all the good things that have happened as a result of your heroic act.
Titus Murphy:
Yes, I have done a few talk shows and a few interviews.
Quest:
Can you give me some examples?
Titus Murphy:
We did Inside Edition. We've received tremendous amounts of awards, including one from the trucking industry and one from the Teamsters. We've been recognized by the City of Los Angeles and the District Attorney's Office, City Hall, and also the State of California at the state assembly in Sacramento, CA. The Rainbow Coalition is the first Black organization to recognize us.
Quest:
Is that right.
Titus Murphy:
Yes, it is. I made mention of that when we had a summit here in Los Angeles. And some woman from BET told me she would get on it and make sure that the Black side of the U.S. takes notice of something positive. They should have been the first to recognize it.
Quest:
Well, you definitely are going to have that recognition with Black History Magazine. We're going to make sure your heroic act is down in history.
Titus Murphy:
OK.
Quest:
You mentioned talk shows. Have you done Black Entertainment Television (BET)?
Titus Murphy:
No, we haven't done BET yet. We've done Inside Edition, Home Show, and Lee Yuan has done Good Morning America. We've done a few of them. But BET would be one positive note, if we could get an interview. As you know, a lot of Blacks watch BET.
Quest:
It would be unusual if they did not do an interview. I believe that they will probably do something with you, though.
Titus Murphy:
A local radio station in Los Angeles had a negative response to the Reginald Denny incident. They said he was making fingers and saying things to the guys and that's the reason they pulled him out of the truck. I don't think that was what really went on that day. From what I saw on television, I guess everybody else at that intersection must have done that also to get beaten up like that.
Quest:
The impression was that if he had been driving through that area and minding his own business he would not have been beaten up.
Titus Murphy:
Yeah, that's what they were saying. That was not the case. The person didn't do anything wrong.
Mina Connors:
I just wanted to ask you about your future and what you're planning to do.
Titus Murphy:
As far as my future, I don't know basically. I've been in the aerospace industry for the last thirteen years and the industry is dying because of the defense department's budget cutbacks, but I personally would like to take this positive note and continue with it.
Quest:
OK. That concludes our interview. I would like to give you an award sometime next year, as well as recognizing other good Samaritans of all colors. I think we need to realize that stopping violence is very important if we are to grow and build things. I'm really proud of you. Because we all need to see that there are real people who exist to help people.