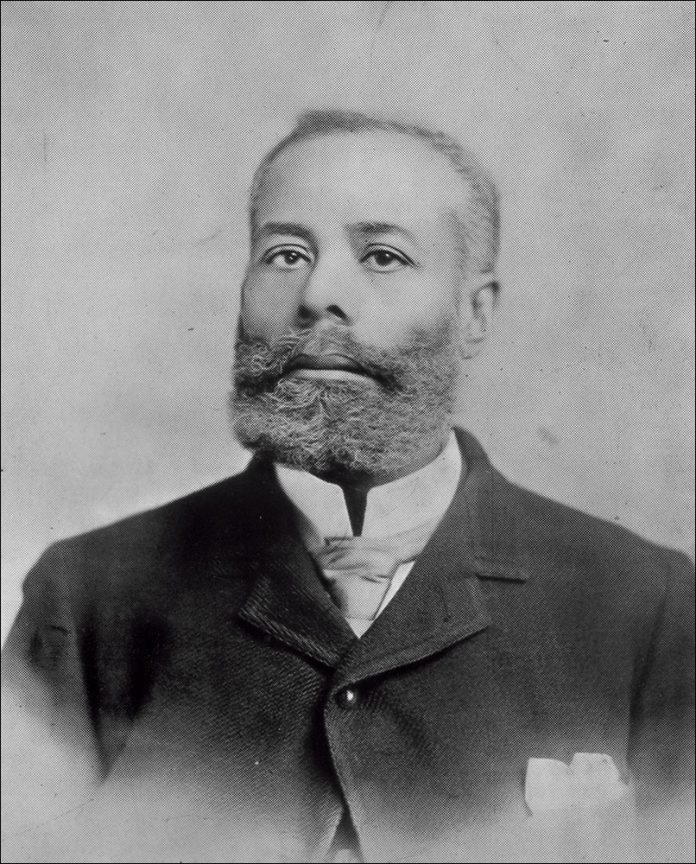 Elijah "The Real" McCoy
---
Benjamin Banneker invented the striking clock in 1761. Between 1837 and 1900, at least 700 patents were granted to black patentees, according to information compiled by Henry E. Baker, an Assistant Patent Examiner in the U. S. Patent Office during the early l900's. Four bound volumes containing these patents are found in the Moorland Foundation Room of the Howard University Founders Library in Washington D. C.
It is believed that Henry Blair was the first black person to have been granted a U.S. patent, for a seed planter, issued October 14, 1834. Blair was granted a second patent on a corn harvester in 1836. In both cases, he was designated in the official records as a "colored man." Subsequently, this practice was discontinued, and no further racial description was given for patentees.
The ban on issuing patents did not apply to free blacks, so James Forten (1776-1872) had no difficulty in obtaining a patent for his sail handling device; nor did Norbert Rilleux, who in 1846 invented and patented a vacuum pan, which in its day revolutionized methods of refining sugar and aided the development of the sugar industry in Louisiana.
However, as late as 1858, Jeremiah S. Black, Attorney General of the United States, confirmed a decision of the Secretary of the Interior, on appeal from the Commissioner of Patents, refusing to grant a patent on an invention by a slave, either to the slave as the inventor or to his master, on the ground that not being a citizen, the slave could neither contract with the government nor assign his invention to his master. Thus, it has been impossible to document the contribution made by innumerable unnamed slaves whose creative skill have added to the industrial might of the United States.
Jo Anderson, a slave on the plantation of Cyrus McCormick, is reputed to have made a major contribution to the McCormick Grain Harvester but is credited in the official records as being
merely a handyman or helper.
Perhaps the best known Black inventor is Jan Matzeliger. Born in 1852, Jan Matzeliger was the son of a Dutch engineer and a native Guinean woman. As a young man, he came to the United States, became a naturalized citizen. He first served as an apprentice cobbler, first in Philadelphia, and later in Lynn, Massachusetts.
Matzeliger invented the machine for the lasting shoe. It was the first appliance of its kind that could perform all the steps required to hold a shoe on its last, grip and pull the leather down around the heel, guide and drive the nails into place, and then discharge the completed shoe from the machine. His machine was patented March 20, 1883, and later patents for refinements were issued in the same year and the year following his untimely death in 1889.
The patent was purchased by Sidney W. Winslow and provided the foundation for the United Shoe Machinery Company, a multi-million dollar corporation. Matzeliger never benefitted from the tremendous economic reward of his invention.
The largest number of patents ever issued to a black inventor went to Elijah McCoy of Detroit, who received his first patent in 1872 and his last one, the fifty-seventh in 1920. Most of McCoy's inventions were for machinery lubricating devices. He is considered a pioneer in the method of steadily supplying oil to machines drop-by-drop. The method boosted production because it made unnecessary the practice of shutting down machines while they were being lubricated.
The contributions of black Americans to the natural sciences and mathematics is a matter of historical record. But it is often overlooked since it is not highly publicized or glamorized. In the past century, probably no black scientists are as well known as George Washington Carver, (1864-1943 ). Dr. Carver's experiments with the sweet potato and the peanut were the basis for the development of over 400 different products from those two common plants. Carver is credited with having to promote a theory of crop rotation to aid soil productivity. He is the father of modern day synthetics, which include plastics and instant coffee e. From the peanut Carver developed plastics, and dye, soap, and salad oil. In the soybean, he found a valuable base for paint. He developed 118 uses for the sweet potato. As a result, new industries were developed, and new jobs were developed for workers.
Dr. Charles R. Drew (1904-1950), the developer of a successful technique for blood plasma transport, was the director of the first Plasma Division Blood Transfusion and the first director of the American Red Cross Blood Bank. At the time he was serving the ARC Blood Bank, the segregationist principles under which the organization operated would not permit even Dr. Drew's blood to be mixed with that of white donors. Dr. Ernest E. Just (1883-1941) did outstanding work at Howard University in the biological sciences. He specialized in studies of fertilization, parthenogenesis and animal cytology. He received the first Spingarn Medal in 1914 for his research.
Charles H. Turner (1967-1923), a University of Chicago, Ph.D., was secretary of the Animal Behavior Section of the international Congress of Zoology in 1907. He was an authority on behavioral patterns of ants.
Dr. Percy Julian, unparalleled in organic chemical research has had a long and distinguished career. Born in 1899, Dr. Julian served for several years as research director of the soya products and vegetable oil and food division of Glidden Company of Chicago. In 1954, he founded Julian Laboratories, Inc.; and in 1961, he sold the firms for $2,338,000. He founded U. Julian Associates and is director of Julian Research Institute in Franklin Park, Ill. Among his many discoveries is the successful synthesis of physostigmine, used in the treatment of glaucoma; a synthesis of the female sex hormones progesterone and testosterone (male sex hormone), and a synthesis of soybean steroids permitting low-cost availability of cortisone.
Dr. Lloyd A. Hall (1894-1971), before his retirement as Director of Research for Griffith Laboratories, is reputed to have developed the most effective curing salt for meat in America. Dr. Hall was a pioneer in the method of sterilizing spices and other food materials, by the use of ethylene oxide.
Emmett W. Chappelle, an astrochemist at the Goddard Space Flight Center, received a Patent for his method of detecting cancer through a mechanism similar to that by which a firefly gives off light.
The range of opportunities for black scientists and technologists in the decades ahead in unparalleled (See also article on Black Inventors
Granville T. Woods, who died in New York City in 1910, patented nearly fifty inventions between 1884 and 1910. His inventions were primarily related to electrical equipment, such as the telephone and the telegraph instruments, electrical railways, and general systems of electrical control. Several of his inventions were for transmitting messages between moving trains. According to the Patent Office Records, a number of his patents were bought by such companies as General Electric and American Bell Telephone and Westinghouse.
William B. Purvis of Philadelphia designed his first machine for making paper bags in 1884, and he is credited with one of the first designs for cutters similar to those used in wax paper and aluminum foil boxes. Subsequently, he patented several variations on his original design.
In November 1897, Andrew J. Beard of Alabama was granted a patent on an automatic car-coupling device which reputedly was sold to a railroad car company for fifty thousand dollars.
A.P. Albert of Louisiana, a creole, invented the machine for picking cotton.
Some inventions of black persons are so commonplace, a part of everyday American life. There is little awareness of Black inventors creativity.
The potato chip, created by Hiram S. Thomas, a chef in the wealthy resort of Saratoga Springs, N.Y., was originally known as the "Saratoga chip."
Augustus Jackson, "the man who invented ice cream," was a Philadelphia candy maker and confectioner (1832).
George F. Grant invented the little pin which has made wives weekend widows from early spring to late fall—the golf tee.
J.H. Dickenson and S.L. Dickinson invented the player piano.
Thomas W. Stewart designed the conventional mop holder.
In contemporary times, Frederick M. Jones of Detroit developed the first practical refrigerator system for trucks and railroad freight cars.
Thomas J. Carter of the U. S. Bureau of Standards has developed a machine for testing the durability of various leathers. B.V. Montez of Chester, PA has developed numerous electronic devices in tape wire recorders listening aids and other instruments, including sending and receiving sets for helmets of professional football players. Emmanuel M. Moore of Pine Bluff, AR, designed an earth-moving machine with a capacity for scooping and side delivering an average of 600 cubic yards of dirt per hour, twice as fast as most dragline machines used by excavators.
Tony Helm of Chicago perfected an all-angle wrench attachment that has proved so popular that he now has a factory to manufacture them. Sgt. Adolphus Samms, at the U.S. Army Weapons Test Station in Yuma, AZ, has completed development of an "air frame center support"—using an engineering concept which eliminates the second and third stage engines from multi-stage rockets, thus stripping the vehicle of dead weight and making greater payloads possible. Samms to date has four patents on various rocket designs. His work has received the attention of the National Aeronautics and Space Administration as well as the President's Office of Science and Technology.
The contributions made by black inventors in almost every field is nearly endless, but the examples cited are indicative of the range of creative ability which has been channeled into scientific and technical areas.
Among the significant twentieth century inventors and scientists are:
JO ANDERSON
-A slave— helped Cyrus McCormick invent the grain harvester (The Reaper). Jo Anderson was a skilled blacksmith and a life-long friend of Cyrus McCormick.
ALEXANDER P. ASHBOURNE
-improved the biscuit cutter.
DAVID B. ATKINS
—Design Engineer—developed the special equipment for the American Buff Company to work with metal products. He produced flanges constructed with tubes that telescoped into each other, providing strength for the assembly. The new flanges, with four equally-spaced segments attached to the outer telescoping tube mounted on the outside. This assembly cannot collapse regardless of speed or centrifugal force caused by the wheel. Before 1965, he was awarded four patents for buffing devices.
JOHN ALBERT BURR
-First Lawn mower. His inventions improved the safety and operation of the lawn mower through a device that helped prevent the grass from clogging up the machine.
WILLIAM S. CAMPBELL
– (first self-setting animal trap.) Used to trap rodents that were harmful to crops and dangerous animals of prey.
GEORGE WASHINGTON CARVER
—known as the "Peanut Wizard" The "Wizard of Tuskegee." He developed over 300 industrial patents.
DR. CHARLES R. DREW
— developed the apparatus for preserving blood (1942), considered one of the major advances in the history of blood preservation.
DR. WILLIAM A. HINTON
—developed test to determine syphilis.
DR. PERCY JULIAN
-regarded as the world's foremost producer of synthetic steroid drugs from the soybean; holder of more than 80 patents; syncretization of the pro progesterone, estrone and testosterone hormones from plants.
JOSEPH LOGAN
—jet engine.
W WIGGINS, JR.
—known for submarine, marine and tug-boat designs.