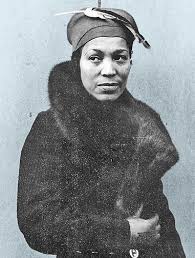 by Janine Fondon
In 1934, a New York Times book review of Zora Neale Hurston's novel Jonah's Gourd Vine reads, "[the book] can be called, without fear of exaggeration, the most vital and original novel about the American Negro that has yet been written by a member of the Negro race. Unlike the dialect in most novels about the American Negro, this does not seem to be merely the speech of white men with the spelling distorted. Its essence lies rather in the rhythm and balance of the sentences, in the warm artlessness of the phrasing."
In 1937, a book review of Hurston's Their Eyes Was Watching God published in The Nation reads, "Miss Hurston's forte is the recording and the creation of folk-speech. Her devotion to these people [Florida Negroes] has rewarded her: 'Their Eyes Were Watching God' is a chock full of earthy and touching poetry."
Hailed as one of the greatest African American female writers, Zora Neale Hurston exposed the roots of Black life in the rural south. In her other two novels (Moses, Man of the Mountain – 1939 and Seraph on the Suwanee – 1948), short stories (Spunk, 1985), plays (Mule Bone: A Comedy of Negro Life, written by Langston Hughes), essays ("The Sanctified Church", 1981), and folklore writings ( Mules and Men – 1935 and Tell My Horse – 1939), anthropologist Zora Neale Hurston revealed the dignity of African-Americans and validated their cultural experiences, language and lifestyle.
---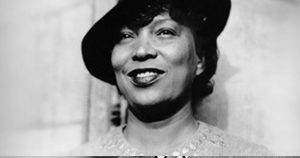 ---
Zora was raised in Eatonville, the first incorporated all-black town in the United States, by a father who was a preacher and a carpenter. Her loving mother encouraged her by saying "jump at the sun . . . You might not land on the sun, but at least you'll get off the ground."
Zora left Eatonville to travel with a Gilbert and Sullivan theatrical troupe as a maid. Later she attended Howard University, where she published short stories in Stylus, the university literary magazine and attracted the attention of noted sociologist Charles S. Johnson. With Johnson's encouragement, Hurston moved to New York City in 1925 and subsequently secured a scholarship to Barnard College with the assistance of Annie Nathan Meyer, a white philanthropist and well-known supporter of Harlem Renaissance artists. While at Barnard, Hurston studied anthropology under Franz Boas and after graduating in 1928, continued her graduate studies with him at Columbia University.
While in New York, Zora connected with fellow Harlem Renaissance artists, among them, Langston Hughes and Countee Cullen. She also became increasingly fascinated with the scholarly study of her hometown's natural ways . . . folklore.
With the aid of fellowships and a private grant from Mrs. Rufus Osgood Mason, a New York socialite interested in "primitive Negro art," Zora continued her anthropological work exploring Negro folklore.
"I was glad when somebody told me: 'You may go and collect Negro folklore,'" Hurston related in the introduction to Mules and Men. "In a way, it would not be a new experience, for me. When I pitched headforemost into the world, I landed in the crib of Negroism."
Zora's pursuit of anthropology took her back to the rural south — her hometown, the backroads of Florida, Mississippi, and Louisiana — where she collected folklore. With a pistol in her pocketbook and a cheap dress, she spent the late 20's and 30's collecting stories, songs, tales, proverbs, crafts in turpentine camps and juke joints, as well as sitting on porches with folks resting after a long hot hard day's work sharecropping.
"At these moments," Zora exerted that, "when the sun and the bossman were gone, black people articulated the truths that enabled them to preserve humanity in a world that expected mules and brutes to occupy their skins."
In Mules and Men, a collection of Zora's folktales, the story of the "First Colored Man in Massa's House" was handed down to Eatonville storytellers from slave times. It was about John, a great slave, who got the best of "massa" all of the time. In one case, a fire occurred and John held the task of telling the "massa". Since the master never taught John to speak properly and learn the correct words for certain objects, it took the master costly time to understand just how extensive the fire was. After some time, John told him clearly — in plain language that he learned on his own — that the fire had spread to the barn via the cat.
Listening to the tales, people realize the unspoken rules of survival which were handed down from slavery — to take responsibility for learning — not to trust everything the "massa" tells you and don't accept lies as truth.
This type of tale proved Zora's belief that folklore, handed down from slavery, explained how black folk managed to use their intellect to deal with ever-present oppression and anger. Slaves not only learned the language, but learned to control it as well.
Tales such as this also "helped to remind the Renaissance — especially its more bourgeois members — of the richness in their racial heritage," Robert Hemenway writes.
Although some black writers criticized Zora for the frequent crudeness and bawdiness of the tales she told, many concur with Judith Wilson, "Hurston's greatest contribution was to all black Americans' psychic health. The consistency in her fieldwork and the bulk of her fiction is one of celebration of a black cultural heritage whose complexity and originality refutes all efforts to enforce either a myth of inferiority of a lie of assimilation. Zora had figured out something that no other black author of her time seems to have known or appreciated so well — that our home-spun vernacular and street-corner cosmology is as valuable as the grammar and philosophy of white, Western culture."
Zora, considered to be among the foremost writers of the Harlem Renaissance, died in poverty in 1960. She once said, "[Black folklore is] the greatest cultural wealth of the continent."
Alice Walker, the Pulitzer Prize winning author of The Color Purple, writes that she admires Zora for her "humor and courage," and for her devoted appreciation of her own culture, which is an inspiration to us all.
Truly an inspiration, Zora wrote in 1928, "I am not tragically colored. There is no great sorrow dammed up in my soul, nor lurking behind my eyes. I do not mind at all. I do not belong to the sobbing school of Negrohood who hold that nature somehow has given them a lowdown dirty deal and whose feelings are all hurt about it . . . No, I do not weep at the world. I am too busy sharpening my oyster knife."