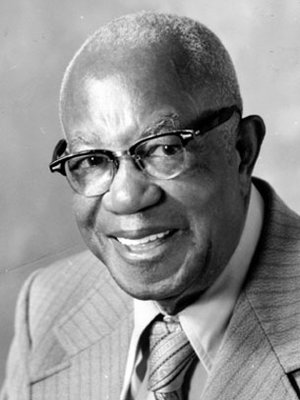 by Tracy Dixon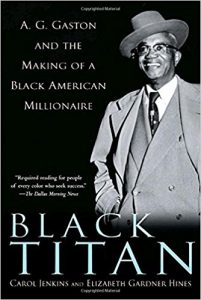 Arthur G. Gaston, Sr. has amassed a fortune believed to be worth over $140 million from businesses he established to fill needs in the Black community. In the 1920s, when Blacks could not get decent burials, he founded a burial society. When White banks were turning down Blacks for mortgage loans, Gaston opened a bank. When office workers were in demand, he started a school. Gaston, who grew up poor in a small southern town, has overcome the odds and has established himself as a vital source of support in the Black community.
Gaston was born on July 4, 1892 in Demopolis, Alabama. He lost his father at an early age and his mother lived in Birmingham where she worked in White people's kitchens, leaving him in his grandmother's care. There was an old swing in his backyard that the children would come to use. Gaston saw a business opportunity and opened his yard to the neighborhood children and charged them a button or pin for admission. He soon had enough pins and buttons to fill a cigar box. This was just a hint of the great fortune that Gaston would later have in the business world.
Gaston, well known for his scholarships given throughout the Alabama college system, completed the eighth grade but has received several honorary degrees He and George Washington Carver are the two Blacks in the University of Alabama's Business Hall of Fame.
---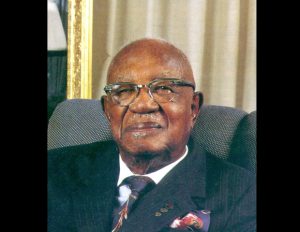 ---
After serving in the U.S. Army during World War I, Gaston settled down in Westfield, a mining community just outside of Birmingham in the 20s. In Westfield, Gaston worked for the Tennessee Coal, Iron and Steel Company digging holes and painting boxcars. It was here that Gaston started making the necessary changes in his life to get ahead. He began by putting himself on a tight budget which earned him the reputation of being cheap.
He started selling peanuts on the side and lending money to his fellow employees at the going rate of 25 cents per dollar. Not only was this very profitable for the young man, it earned him the respect of those in the community who now viewed Gaston as being rich.
In 1921, Gaston founded his first company, the Booker T. Washington Burial Society. The company was started to ensure that Black people received decent burials. Seeing a need, Gaston stepped in and offered $75 burials to people for a weekly cost of 25 cents for adults and 15 cents for children. When the Burial Society's first client died, it had total assets of 25 cents. With the encouragement of the minister, residents joined the Society and soon Gaston had enough to pay the undertaker and eventually buy out the company that he worked for.
With business growing steadily, White competitors attempted to stop the Society's progress. Prejudice started to grow in the small town, prompting Gaston to move his business to Birmingham, Alabama. The company continued to grow, and developed into an insurance company and burial service.
A shortage of qualified clerks and typists to fill positions with the Gaston businesses led Gaston to open a school with his wife, Minnie. The Booker T. Washington Business College was founded in 1939 to offer courses in business administration, bookkeeping, accounting and IBM matching accounting. Since its founding, the school has prepared thousands for corporate and government jobs.
Seeing an urgent need for housing in the Black community, Gaston again stepped in and established the Citizens Federal Savings and Loan Association. In many instances, Blacks were being refused mortgage loans by White institutions and their homes were being bombed without any available resources to make repairs. With the founding of the Savings and Loan Association, Blacks were able to get the funds necessary to rebuild their community, and more importantly, they gained a banking institution they could trust. Citizens has become one of the largest black-owned savings and loans in the nation with assets over $60 million.
Gaston was also instrumental during the Civil Rights Movement. Not only did he permit the Southern Christian Leadership Conference to make its headquarters at his motel, but he provided bail funds for Martin Luther King, Jr. and other demonstrators. Gaston did not always agree with Dr. King's tactics when it came to turning the other cheek. "I
always felt that if somebody hit me, I would have to hit them back," said Gaston in an interview.
Gaston's generosity and devotion for his people was demonstrated once more in 1988, when he sold the Booker T. Washington Insurance Company with its subsidiaries, including the Booker T. Washington Broadcasting Company, which owns WENN, a top-rated FM station, and WAGG, a 24-hour AM gospel music station, and the A.G. Gaston Construction Company to its employees.
The Booker T. Washington Insurance Co. in 1988, was named
the year's most innovative Black company in the area of management by Black Enterprise Magazine. Gaston sold BTW for $3.5 million, a fraction of its worth. The firm had over $34 million in assets in 1988, with nine branch offices serving over 300,000 policy holders. The company is the largest Black-owned insurance firm in Alabama and the seventh-largest in the country.
Gaston's decision to sell his company to its employees was prompted by his concern for their job security. "I could have sold it for a whole lot more, but I would have to sell it to some company that would not be able to retain the employees' jobs," explained Gaston to reporters. "They helped me build this thing, and I couldn't see them out of work."
Since Gaston believed that family and business affairs should remain separate, he did not pass the company down to family members Besides his wife, only one of Gaston's five grandchildren, Creola Lucas, is involved in the business as an office manager of the Vulcan Realty and Investment Corporation.
At the age of 98, Gaston still plays a role in the businesses he founded more than 60 years ago. In addition to serving as chairman emeritus of BTW, he will remain chairman of the board of the Citizens Federal Savings Bank. A.G. Gaston has worked hard to fill needs in the Black community and his achievements in the world of business will be emulated for years to come.
Gaston's Rules
1. Pay yourself first. Take yours off the top. Pay yourself a salary. Set aside a specific amount of each paycheck as your money. Take that money out first and bank it. You'll be surprised how fast the money builds up. If you have two or three thousand dollars in the bank, sooner or later somebody will come along and show you how to double it. Money doesn't spoil. It keeps.
2. Establish a reputation at a bank or a savings and loan association. Save at an established institution and borrow there. Stay away from loan sharks.
3. Take no chances with your money. Play the safe number, the good one. Take your time. A man who can't afford to lose has no business gambling. When you can afford to lose, you seldom do.
4. Never borrow anything that, if forced to it, you can't pay.
5. Don't get big-headed. Never forget the "little fellows." That's where the money is. If you stick with the "little fellows," if you give them your devotion, they'll make you big.
6. Don't have so much pride. Wear the same suit for a year or two. It doesn't make any difference what kind of suit the pocket is in, if there is money in the pocket.
7. Find a need and fulfill it. Successful businesses are founded on the needs of people. Once in business keep good books. Everything that goes in the cash register doesn't belong to you. Also hire the best people you can find. Try to find a person who is worth more than you can afford to
pay and then pay him.
8. Stay in your own class. Never run around with people you can't afford to compete with.
9. Once you get money or a reputation for having money, which is the same thing, people will give you money.
10. Once you reach a certain bracket, it is very difficult not to make more money.